16th Aug 2011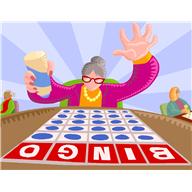 A bumper crowd of well over 50 packed the Hall last night for the final bingo tea of the season. Over £300 was raised towards the costs of running the games smashing last year's total by almost £200 and giving the best ever total raised during any one season.
Thanks are extended once again to everyone who came along to assist, contribute or participate. The receipt of prizes and other donations (including the home baking) all helps to make these nights the success which they are and the Games Committee is truly indebted to each and every one of you. A special presentation was made to Mary, Nan, Jeanette and Isobel for all that they have done during the year and, in her absence, also to Hazel Cook for the provision of sandwiches each month.
Bingo tea holiday season now but we will see you all back at the usual venue on Wednesday 26th September 2012. Eyes down at 7.30pm.
28.06.2012